This article first appeared on the cover of Vertical Magazine's October/November 2018 issue. Story by Oliver Johnson. Read the digital edition here.
Building Beyond Ordinary: Hillsboro Aviation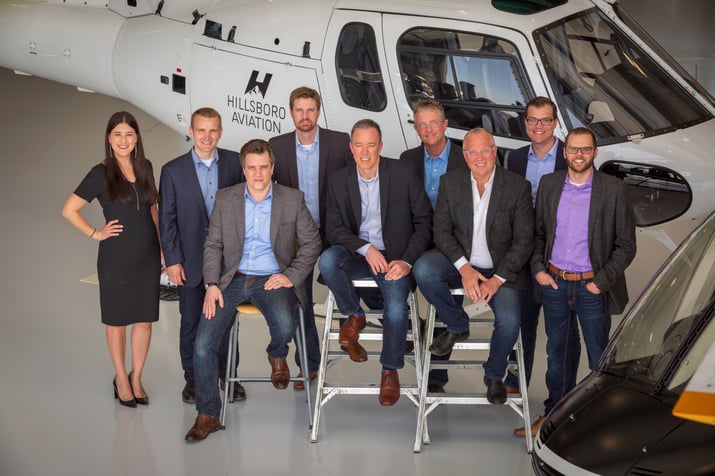 Having spent more than 30 years turning a single-helicopter company into one with a fleet of 90 aircraft, with charter operations joined by a service center, aircraft sales and management, parts sales, a fixed-base operator (FBO), and one of the largest helicopter schools in the world, you'd perhaps have excused Max Lyons and his team at Hillsboro Aviation for being satisfied with their lot. But it's clearly not a company that's content with merely maintaining the status quo. So, within the last four years alone, it has sold its flight school, built a brand new 51,000-square-foot headquarters, and, with a view to capitalizing on a whole new branch of aviation services, launched a UAS division. These are hardly the signs of a company that's resting on its laurels.
A visit to Hillsboro Aviation's spectacular new headquarters, located on the northern edge of Portland-Hillsboro Airport, is a visual treat. Built to accommodate environmentally friendly designs, including plans solar panels, electric vehicle charging stations, and LED lighting, the facility includes a 32,000-square-foot hangar with white floors, radiant heat, and 5,000 square feet of adjoining shop space; four acres of ramp and parking space; and a 14,000-square-foot office and FBO facility.
"I've visited around 300 different aviation companies, lobbies, hangars and FBOs around the world, and I take notice of what makes them special," Lyons, president and owner of Hillsboro Aviation, told Vertical. "I thought, 'How do you build an environment that employees take pride in and love coming to work, and a place that customers are in awe of; a place leaving a longlasting impression of international flare and genuine warmth?' "
The answer to the question was found through architect Aron Faegre, aviation facility specialist Centrex Construction, interior designer Kathy Wharton, and Lyons' wife Carol, who helped select furnishings and artwork. Their combined efforts resulted in the building winning an award from Varco Pruden — one of the leading suppliers of steel building frames in the U.S. — as "Best of Category" for a transportation facility.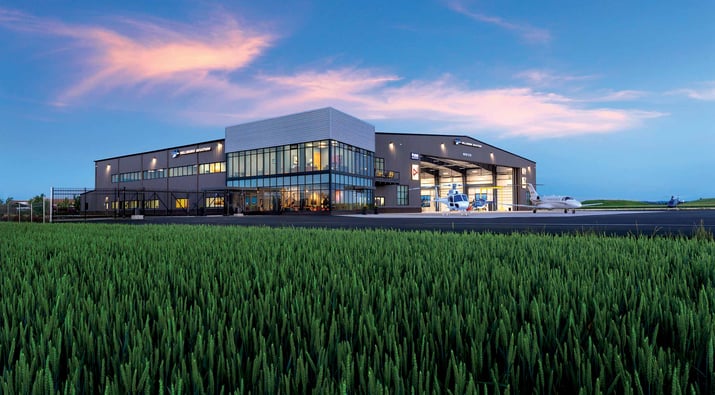 Combining cutting-edge design with high-end finishes, the facility exudes both luxury and an easygoing warmth. It incorporates Douglas fir finishes, a fireplace, and floor-to-ceiling windows that bath the interior with natural light — and provide an unobstructed view out over the ramp to the dramatic Pacific Northwest landscape beyond. Beautiful artwork and artefacts from around the world are displayed throughout, most of which were purchased in their country of origin by Lyons and his family, who are avid and enthusiastic travelers. (This also means that there is a story behind everything you see.)
"This building emulates who we are," said Ryan McCartney, the company's general manager. "It's very clean, very organized, very high-end — that's the culture that we have. At the same time, it's a family-owned business, and we're very much a family here."
The company broke ground on the new facility in August 2015, and a rapid construction process resulted in Hillsboro being able to move into its new home just 10 months later.
As an FBO, Hillsboro sells Avfuel, offers hangar space, aircraft detailing, courtesy cars, catering, maintenance and avionics services. The amenities it offers include a private ramp, flight planning, an exercise room and shower, a pilot lounge and use of a conference room.
"We've had a number of high-net-worth individuals fly in here with Gulfstreams and other aircraft that have walked in and said it's the nicest FBO they've ever been in," said Lyons. "That's what we were looking for."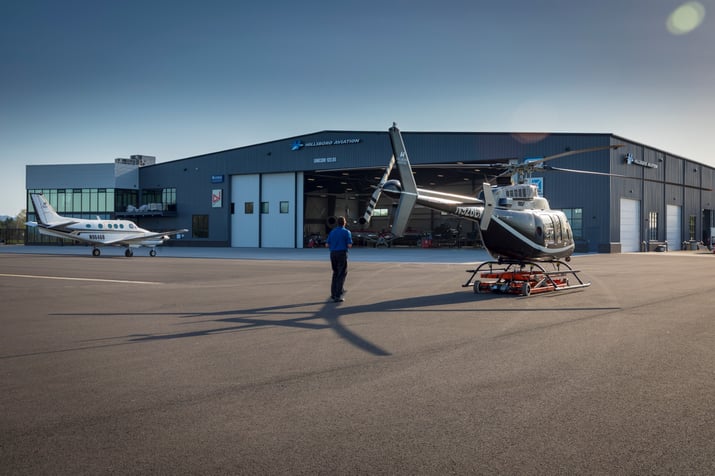 Today, the FBO is one of five core business units at Hillsboro, joined by contract and charter services; aircraft sales and management; a service center; and parts sales. Woven into the fabric of all five is the secret to Hillsboro's success over almost four decades — the importance of developing and maintaining long-term relationships with its customers.
From student to CEO
The company was founded by a former Robinson Helicopter production test pilot in 1980. Then known as Hillsboro Helicopters, it operated as a single-helicopter flight school using one of the first serial number Robinson R22s.
Lyons, a fourth-generation logger, began what would become a lifelong association with the company as a customer in 1983. After learning to fly with Hillsboro Helicopters and gaining his license, he returned in 1988 to join it as a flight instructor, while also flying utility operations. Shortly afterwards, he was appointed head of the company's Japanese pilot training program. With a particular affinity for Asian culture, he developed key business partnerships in the continent, bolstering the company's training program.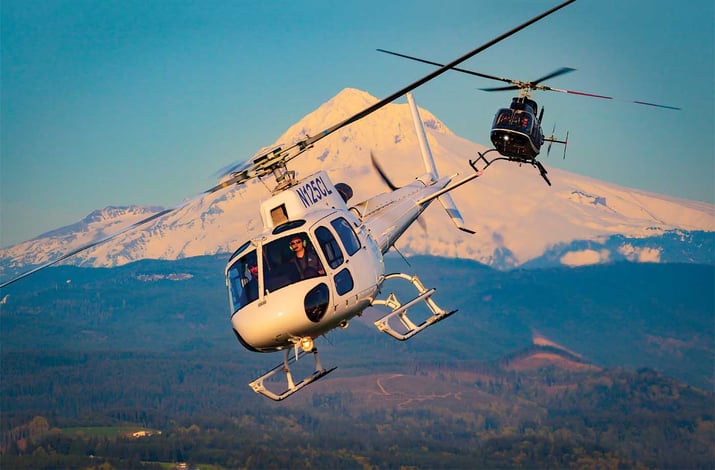 But it was the enrollment of another student pilot that would fundamentally shape the future for both Hillsboro Helicopters and Lyons himself. Ed Cooley, who had led Precision Castparts to become a Fortune 500 company, arrived at the school as a student pilot. Lyons taught him to fly, and in 1992, Cooley decided to turn his newfound passion for helicopters by purchasing the company — and appointing Lyons as general manager.
Cooley adopted a mentorship role with Lyons, and the two brought a new business philosophy to the company, emphasizing the importance of developing relationships with customers.
"Ed brought the Fortune 500 financial mentality to us, helping us really understand what our costs were and developing strategic business plans," said Lyons. "But his greatest gift was building relationships — keeping your promise and commitment to the customer. At times, even when you have to accept a loss, you keep your promises."
The company became Hillsboro Aviation in 1996, reflecting the growth in its operations that had taken place, with fixed-wing operations augmenting its rotary-wing work in a variety of sectors, along with the addition of sales and service divisions.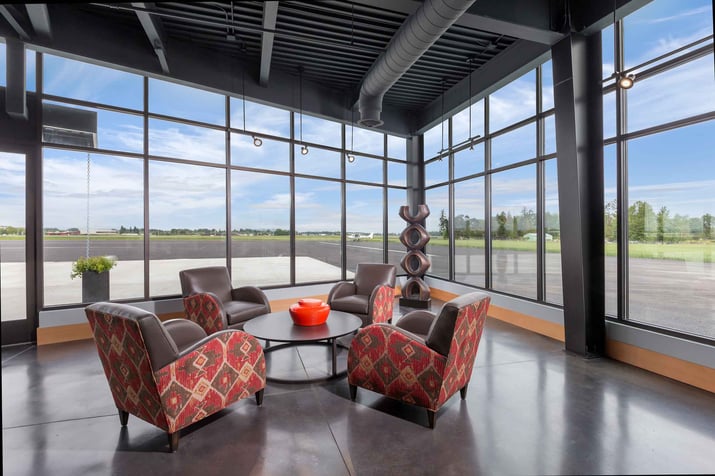 The Lyons family purchased the company from Cooley in 1999, and Hillsboro Aviation continued its growth, becoming an operator, service center, sales agent and FBO that, at its peak, employed 285 people, had a fleet of 90 aircraft, and worked with customers from more than 75 countries.
Then, in 2013, Lyons was approached by Renovus Capital Partners of Pennsylvania, who made an offer with Graycliff Partners of New York for Hillsboro's flight training business. Sensing an opportunity to shift its sole focus to its charter, sales, and service divisions — expanding its service offerings, international reach, and customer experience — Lyons said the timing was right and chose to split the company, selling the flight school in late 2014.
Despite the changes to its business, diversification is still core to Hillsboro's strength and a key part of its strategy going forward. Its wide-ranging expertise is reflected in its various certifications and approvals, under Federal Aviation Administration parts 135 (airplane and helicopters services), 133 (external load operations), 137 (agricultural operations), and 145 (repair station); and it is a U.S. Department of Defense Commercial Airlift Review Board (CARB)-approved air carrier.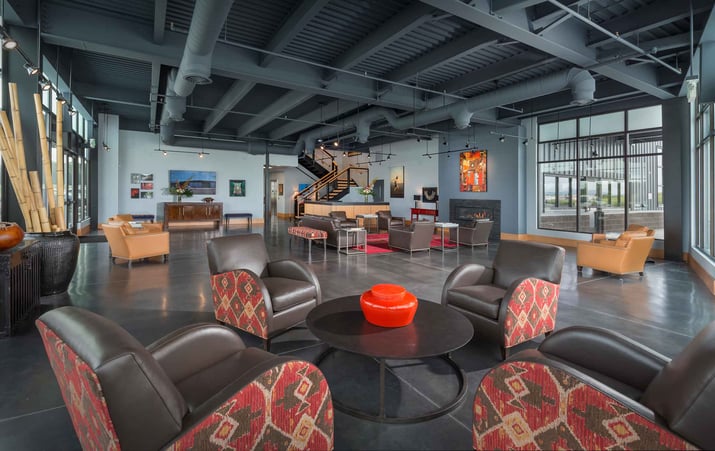 An early adopter of safety management systems, Hillsboro is also qualified at stage 2 of the International Standard for Business Aircraft Operations (IS-BAO).
"With the volume of flying that we've done in the past 38 years, and the volume of maintenance we've done on outside customer aircraft, we're proud of our safety record. It's truly ingrained in our culture," said McCartney. "We're serious about safety. Anybody can say that, but I think our history and systems prove that it's part of our culture and our everyday life here."
Varied operations
Having flown over 1.2 million hours since its founding, Hillsboro has vast experience in its work. Its 65 employees (rising to 85 during the fire season) also bring an enormous amount of experience to their roles, with those in management having an average of 18 years in the industry, pilots averaging 20 years, and mechanics and aviation technicians, 21 years.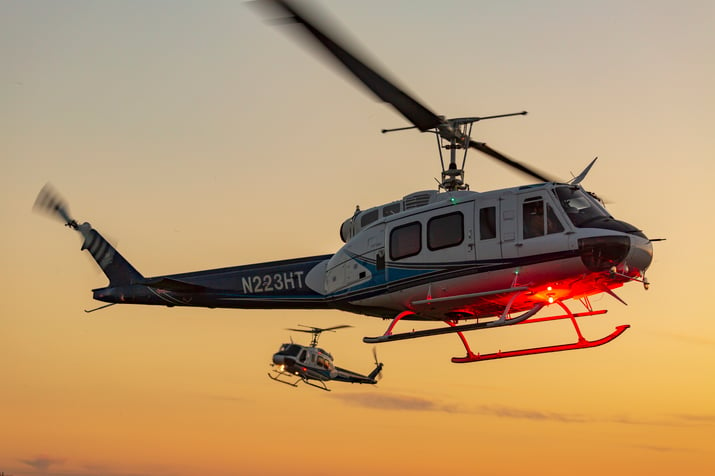 The company's key operating sectors are firefighting, search-and-rescue, aerial construction, LiDAR, powerline and pipeline surveys, scientific support, seismic and exploration, executive charter, aerial cinematography, and burgeoning UAS operations.
Its 13 rotary and fixed-wing aircraft include four Bell 205 A-1++ aircraft, two Airbus H125s, three Bell 407s, two Bell 206B-3s, one Bell 206L-3, and one Beechcraft King Air C90. All are owned by Lyons, who operates the company with a philosophy of maintaining as low a debt as possible.
Hillsboro's operations take it right across the United States. Along with its headquarters in Hillsboro, the company operates from different remote bases throughout the year. The number and location of these vary based on contractual requirements, but have recently included a pilot and aircraft contracted to Teton County Search and Rescue of Jackson, Wyoming; an aircraft on a Department of Defense contract in Fort Irwin, Texas; construction, heli-skiing, and lift projects; and numerous aircraft on government contracts during firefighting season.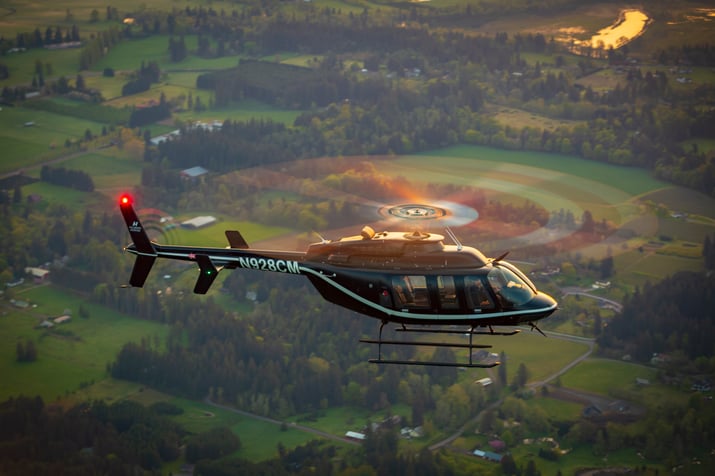 This year's fire season was a particularly busy one for Hillsboro — as it was for much of the aerial firefighting fleet in North America. "At one point, we had 10 of our 12 helicopters out on fires. We thought 2017 was an anomaly; 2018 is busier — our busiest ever," Seth Hansen, Hillsboro's director of business development, told Vertical.
However, while the glut of firefighting work is definitely a positive in terms of keeping the aircraft busy, Hillsboro is keen to not be reliant on it as a source of revenue.
"We've been trying to diversify into other parts of the business," said Hansen. "There are lots of infrastructure projects going on in the U.S. right now. I think there are opportunities for us to get involved in that and it's the direction we want to move going forward."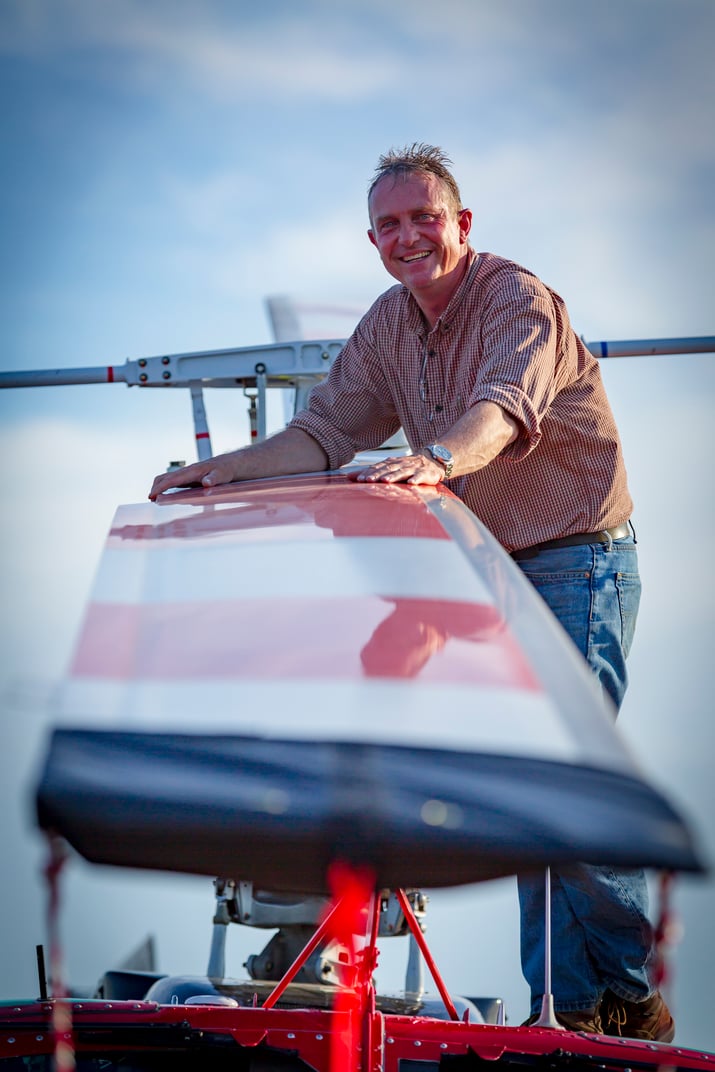 In years gone by, seismic work was a significant source of revenue for Hillsboro, occupying six or seven helicopters year-round. Today, with the mineral exploration sector having endured a downturn alongside that of the oil-and-gas industry, the situation is quite different.
"Historically, our goal was to have about 40 percent of our work be government, with 60 percent being 'other,' " said Lyons, "but with the recession and downturn in the economy, it's heavier on the government side."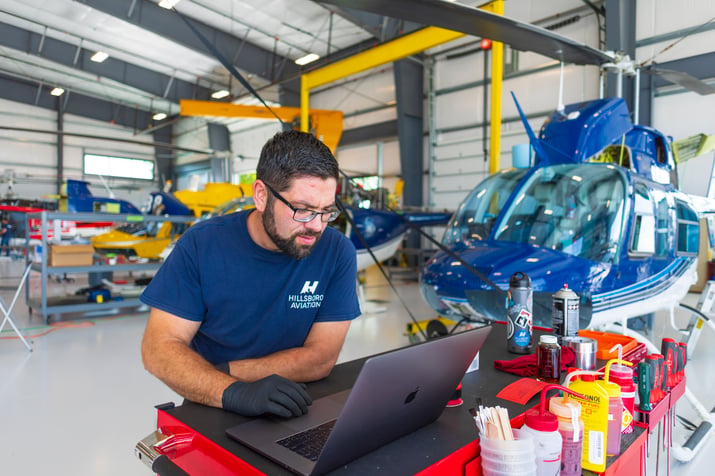 It was Hillsboro's diversification that made it possible for the company to remain profitable throughout the recession, said Lyons.
"Our diversification has helped us weather economic storms. Our government contracts and aircraft sales have provided stability during these downturns," he said. "As the economy starts to improve, our portion of government revenue will stay the same, I believe. It may go up a bit . . . but I think where the growth will be is on the private sector side."
The newest branch of the company's operating division is its UAS work.
"If you think that the UAS industry could negatively affect 10 to 20 percent of your future revenue, which I think it can . . . you need to build a UAS division to try to offset that," said Lyons. "Staying relevant means staying open to new opportunities in emerging markets. That's been our philosophy since day one, and the UAS business is a great example."
Hillsboro's UAS operation uses the DJI Inspire and the DJI Matrice for various data collection jobs — primarily for companies working in construction and agriculture.
"The equipment is important, but it's the sensors that create the capability of the aircraft," said Hansen. "So, we have a diverse range of sensors that collect data in different ways, and we can apply the sensors to other platforms that we use."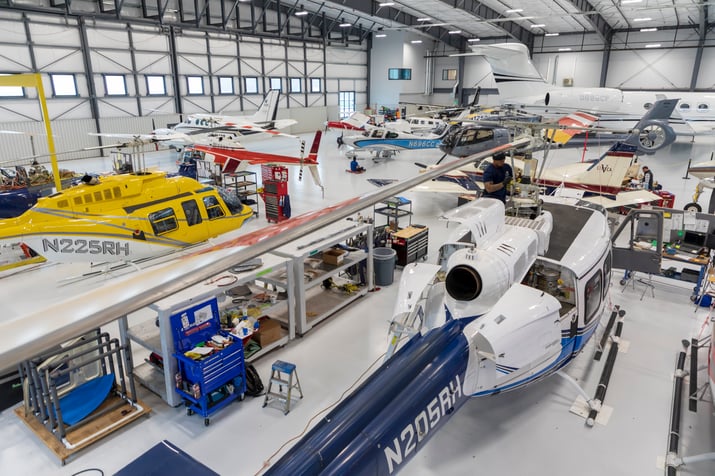 Hillsboro is seeing a whole new customer group for its UAS service, rather than finding existing customers are switching to UAS from manned aircraft.
"We're finding customers that were using other avenues to collect data that may have been less accurate, and this new technology allows them to go out and acquire more accurate data at a much lower cost," said Hansen.
Expanding other divisions
Beyond its role as a fleet operator, Hillsboro has developed an international reputation as an aircraft broker, recording over 1,000 sales of fixed- and rotary-wing aircraft. According to Lyons, the goal is to expand this side of the business with more fixed-wing sales for aircraft such as King Airs and Cessna Citations.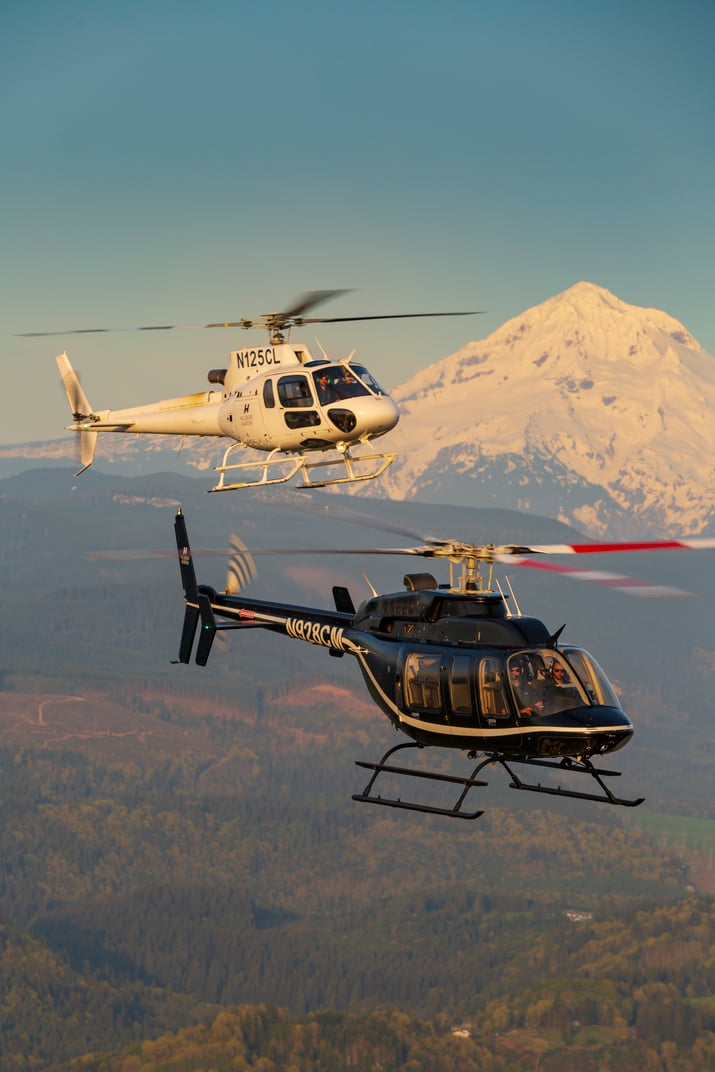 In 2016, Hillsboro became the first — and to date, only — commercial sales agent in the U.S. for Airbus Helicopters, with responsibility for Alaska, Colorado, Idaho, Montana, Oregon, Washington, and Wyoming.
"I really like Airbus — I'm impressed with their product lines; I'm impressed with the aircraft," said Lyons. "We've added some Airbus helicopters to the fleet, and they're very well received. We're very excited and optimistic about the relationship."
Aircraft sales is another area in which the company feels the benefit of developing and maintaining relationships with its customers. Through its years as the owner of one of the largest helicopter flight schools in the world, it established connections with pilots at their entry point into the industry, many of whom have subsequently gone on to leadership roles throughout the U.S. and around the world.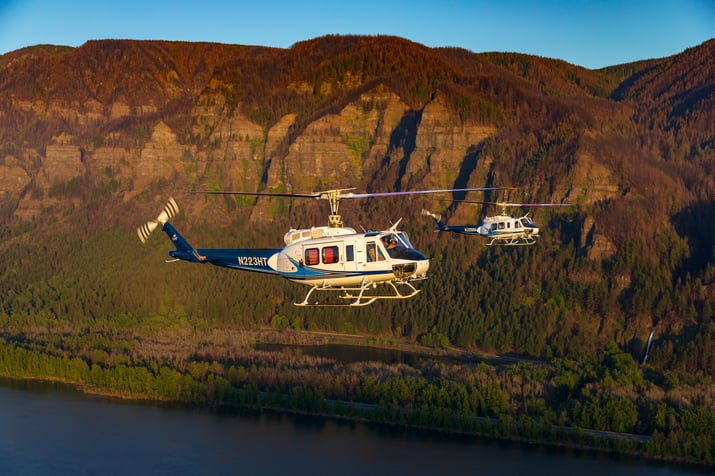 "Most people purchasing an aircraft want to work with someone they have a relationship with," said Lyons. "I think the root of our success lies in the honesty of our handshake. We keep our promises. People call us and we respond — even if it's on a Sunday at 5 o'clock. We really try to go the extra mile to take care of our customer."
Parts sales has been one of the more rapidly-growing parts of Hillsboro's business, spurred by a renewed focus on the division as the company purchased the tooling and equipment of Heli-Trade Corporation in 2012. Heli-Trade was known for its repairs, service, and aftermarket upgrades for the Bell 205/UH-1, and the purchase brought 12 supplemental type certificates for performance enhancements on the Bell 205 and UH-1 (turning a standard 205 into a 205 A1++), as well "a building full of parts for Bell mediums" under Hillsboro's roof.
However, its parts inventory is certainly not limited to the 205 — or even to Bell — as it spans more than 50 manufacturers, vendors and suppliers.
This variety is also reflected in Hillsboro's maintenance and avionics services, where it has the expertise to work on helicopters, jets, turboprops and piston aircraft, and is an authorized service center for Bell, Cessna, Cirrus Aircraft, Robinson Helicopter, Lycoming, and Goodrich.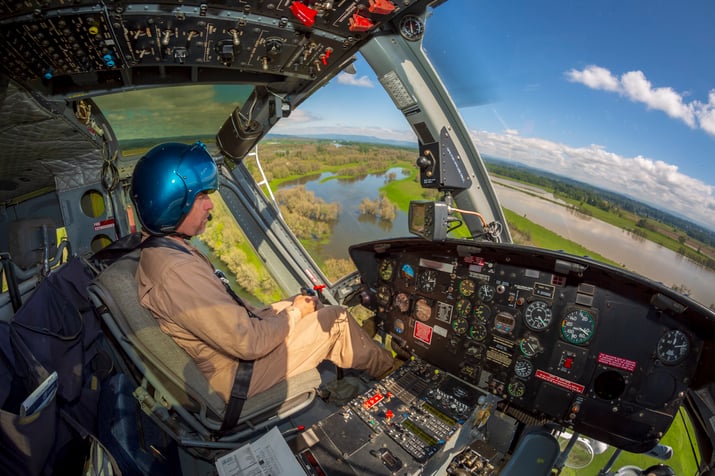 According to John Miller, Hillsboro's director of sales and service, the company is currently seeing a boom in its avionics work. "Our service center is busy with the ADS-B [2020] mandate. And with the turn in the economy, we're seeing more and more people investing in and upgrading their avionics panels — we've seen an uptick in the last 10 months."
He said this has been mirrored in new aircraft sales. "There are a lot of positive signs right now," said Miller. "When the oil and gas prices went down, it put a lot of extra helicopters into the marketplace and brought down prices, but we're seeing some of that inventory start to move and starting to see some first time buyers getting into the helicopter market, which is pretty exciting."
Lyons also highlighted the potential of international CARB business for bringing in new work, "but we have to find the right opportunities to do it," he said.
When the right opportunity for growth does appear — whether in the form of CARB work or another sector — Hillsboro has the capability to physically expand with it, with a total of 425,000-square-feet of property available for long-term development potential.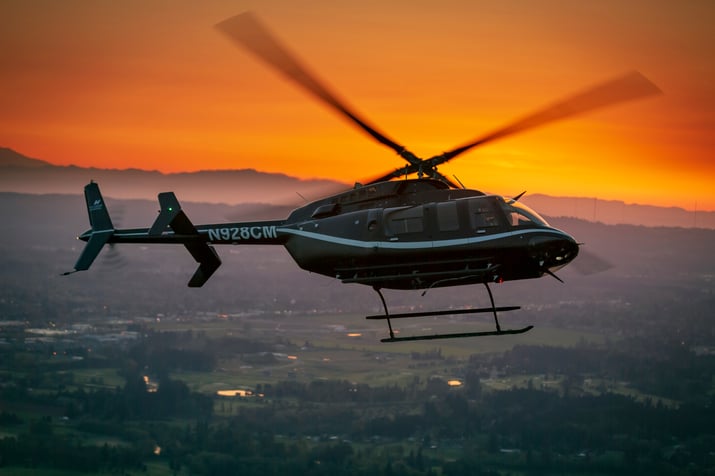 Hillsboro Aviation also includes the next generation of Lyons, through Max's daughter Rekha. Having joined the company as director of marketing and communications, she has spearheaded a rebranding of the company that launched earlier this year.
"We've spent the last few years refreshing Hillsboro Aviation's brand," she said. "Not only have we been expanding — we've been expanding with intent. Our brand is one built on the notion of doing business differently. Our rebrand, complete with a new website and brand video, tells our story: we are people first, and always will be."
As for Max, he continues to find fulfillment in the challenges presented in running a 21st century aviation company — and building the relationships that have laid the foundations to its success. "Aviation attracts high quality, dynamic individuals: pilots, mechanics, management, and customers. I like the relationships you build with those people," he said. "To me that's exciting stuff, and that's what drives me — doing something that you're proud of."